How to Send WhatsApp Bulk Messages For Free 2020-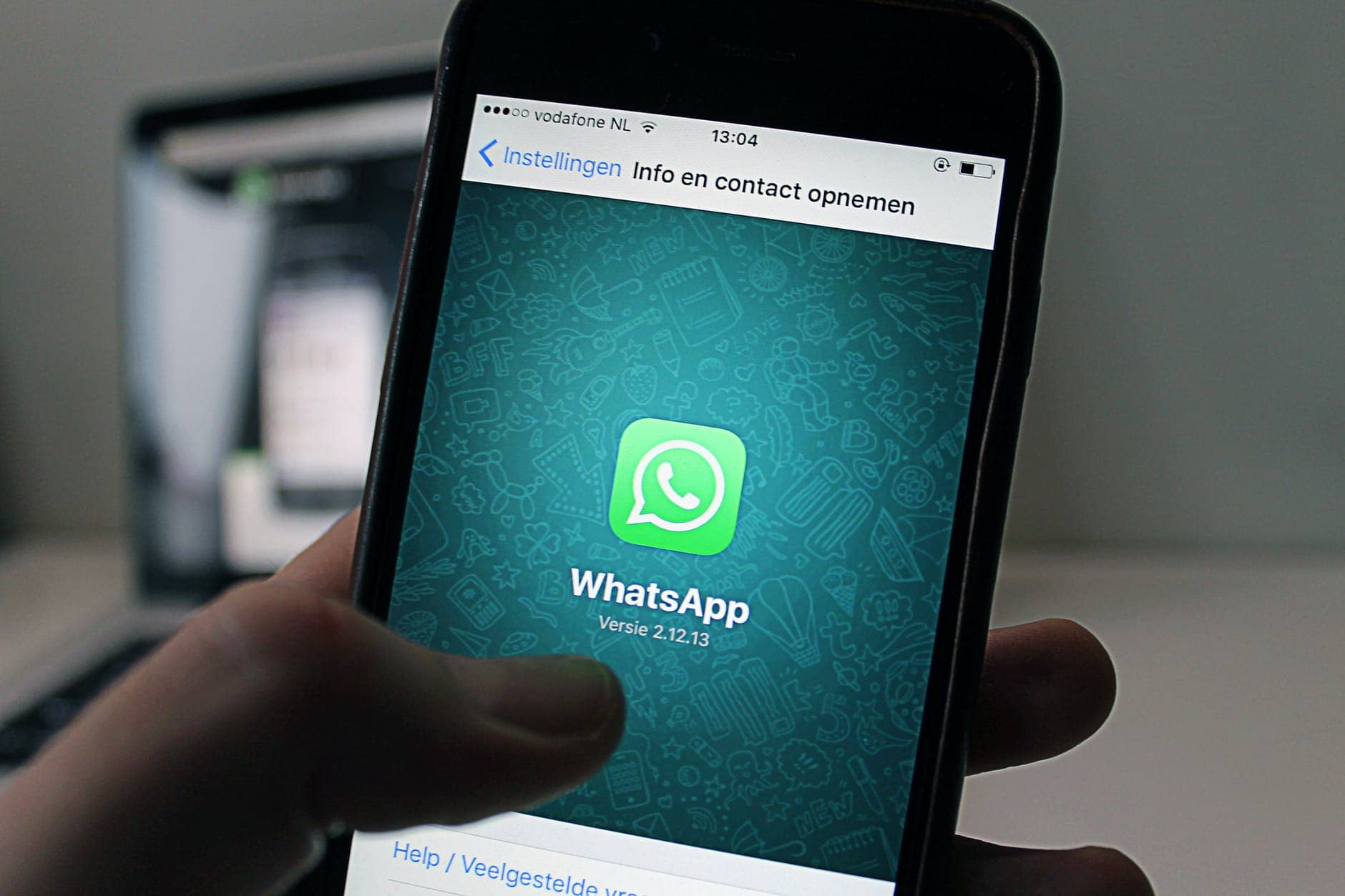 In today's condition, many people use WhatsApp for communication. All across the globe, every people are using WhatsApp. In this article, you will learn – how to send bulk WhatsApp messages.
Many people use WhatsApp for there personal use. But some of the smart peoples like you are using WhatsApp for there business.
So, In this article, you will learn about some software which is giving you some free trial for sending bulk messages in WhatsApp.
Also, I am going to tell you about an extension for google chrome which you can use to send the bulk messages in WhatsApp.
Why use "Whatsapp message Sender" –
First of all, if you have any business and you have to grow your business then my recommendation is to use WhatsApp message sender software.
In 2020 WhatsApp is also used as a marketing tool. Many businessmen are using Whatsapp for marketing there products and services.
Some of the reasons of why to use "Whatsapp message Sender" is given below –
Scale your business-
The most important thing you can do by using Whatsapp message sender is you can directly contact with your client.
And you can increase your business and provide more value to customer.
Engagement with the customer-
By using bulk WhatsApp messaging tools you can easily engage with your customer and grow your business.
Potential client/customer-
Getting potential clients or customers is necessary for growing business. By using WhatsApp bulk messages you can send your messages to many clients or customers by a single click.
How to send Whatsapp bulk messages using chrome extension
1.Add extension to your google chrome-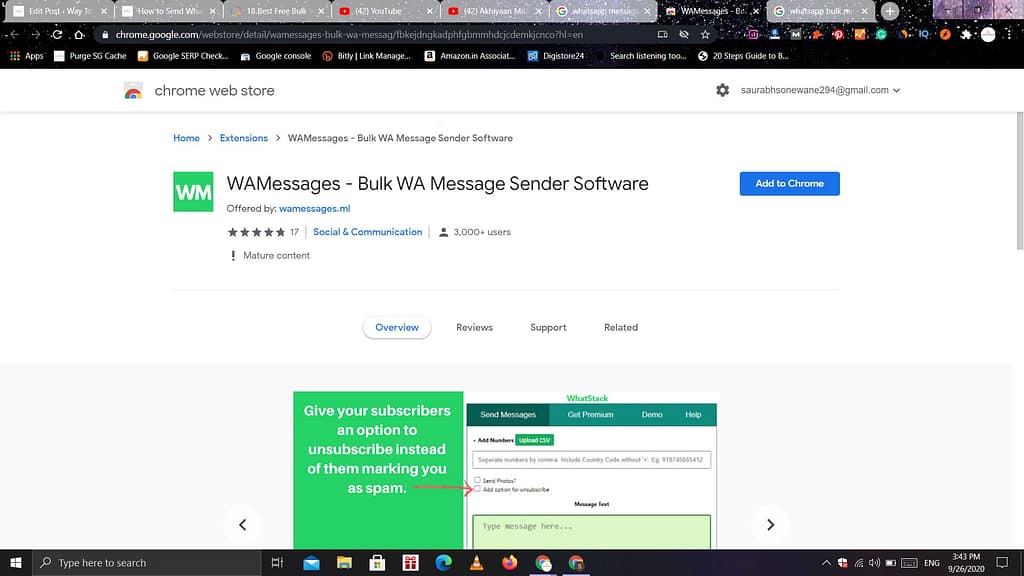 Adding the extension to your google chrome is a very easy step. But I explain to you each and every step for adding the WhatsApp message sending extension. Go to the link which is given below.
2. Set up Whatsapp message sending extension-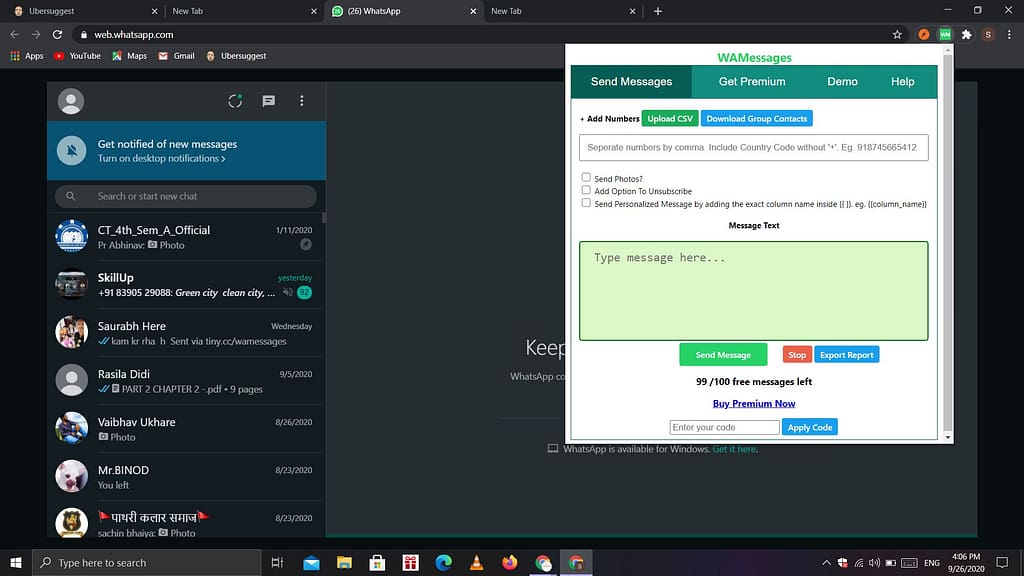 When you go to the above link then click on the Add to chrome button. And then this extension is automatically added to your google chrome extension.
Now you see this extension on your extension section of google chrome.
Then click on WA sending extension and the WhatsApp web automatically opens on your google chrome.
How to send message?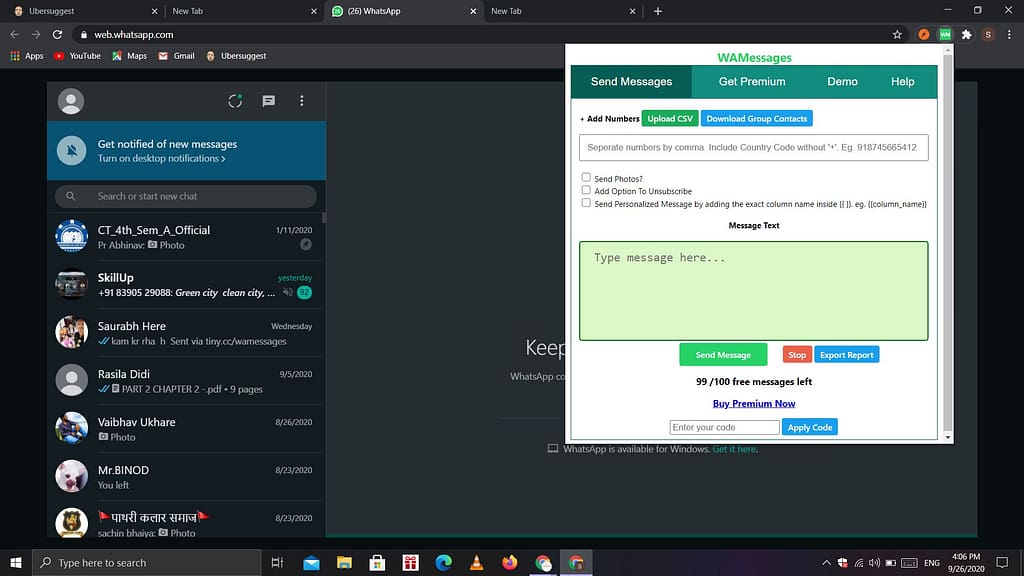 You can add numbers and send messages.
Also, You can add multiple numbers and all the number is separated by "coma".
You can also upload an excel sheet and send a message to each and every number using a single click.
Also, you can send the message by uploading a CSV file and you can download group contacts.
After this process just clicks on the send message button and your message is sent to all contacts.
So, this is a bulk WhatsApp message sender extension for google chrome.
Now we will discuss some tools that you can use for bulk WhatsApp message sender.
5 best free Bulk Whatsapp message sending software
| | | | |
| --- | --- | --- | --- |
| Sr No. | Online Tool | Free Demo | |
| 1 | Lead Myntra Bulk WhatsApp Sender | Yes | |
| 2 | Whatso Bulk WhatsApp Sender | Yes | |
| 3 | WhatsMarketing Software | Yes | |
| 4 | WebXion Bulk SMS | Yes | |
| 5 | WhatSender Bulk WhatsApp Sender | Yes | |
let discuss one by one about all of the WhatsApp bulk message sending software.
1. Lead Myntra Bulk WhatsApp Sender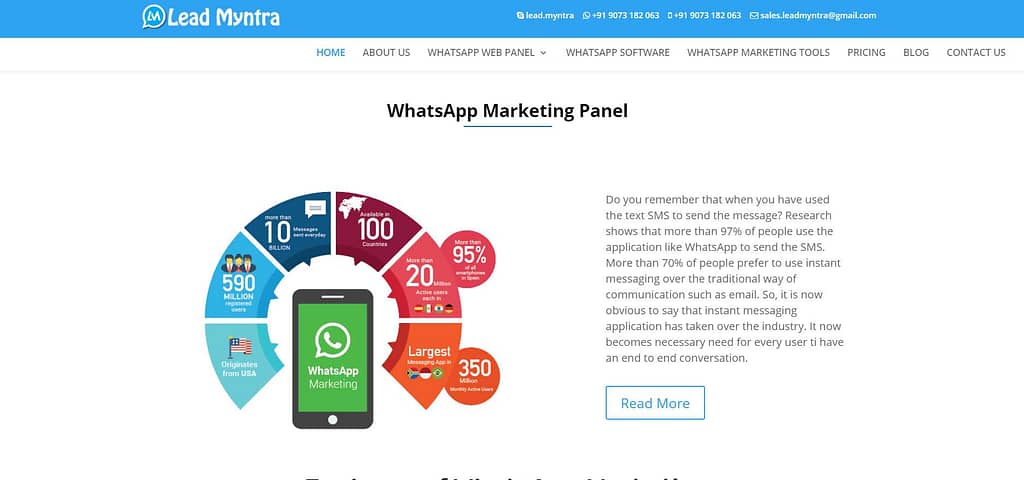 Do you remember that when you have used the text SMS to send the message? Research shows that more than 97% of people use the application like WhatsApp to send the SMS. More than 70% of people prefer to use instant messaging over the traditional way of communication such as email. So, it is now obvious to say that instant messaging application has taken over the industry. It now becomes a necessary need for every user to have an end to end convers

leadmyntra.com
The above line is given in the website of lead myntra.
Lead myntra is a WhatsApp message sender software. This software is used to send photos, videos, files in bulk to many contacts.
Features of Lead myntra-
You can send messages/videos and images in a bulk
Building a group is very easy
You can send messages and videos in groups
Filtering group
Introducing the new contact
Record analysis
You can see message history
Reseller option and management
Pricing –
The Lead myntra has a three different price segment according to there features.
The start-up plan is 5,500 Rs and the validity of this start-up plan is of 2 months.
Next, they come up with the basic plan which is 11,000 Rs and the validity of this basic plan is of 5 months.
And the last plan is an advance plan which is of 17,000 Rs and the validity of this plan is 7 months.
You can choose any plan according to your requirement.
2. Whatso Bulk WhatsApp Sender
"Marketing is not about the stuff you make,

It is about the stories you tell;

Use Whatso to tell your business story &,

drive engagement to your content and business."
The Whatso Bulk WhatsApp Sender is used to easily send messages, some announcements, your business update, and many more.
So, lets talk about some features of Whatso Bulk WhatsApp Sender.
Features of Whatso Bulk WhatsApp Sender
You can download this software on your laptop and computer.
The Whatso Bulk WhatsApp Sender is multi-language software that means you can use this software in many languages according to you.
This tool has turbo fast speed mode. In this mode, you can send messages, pdfs, documents, images, videos in a single click. Also, this message will send without opening each contact.
Pricing –
The Whatso Bulk WhatsApp Sender is also come up with the three different price range.
In the standard plan, you will get an annual subscription for just 999 RS. For as a startup business this standard plan is very suitable.
If you buy another two plans then you will get lifetime access to this tool.
For professional use you can buy Professional plan for your business for 1499 RS.
Then next plan is of RS 2999 which is in Enterprice level. And you can access this plan for lifetime.
3. WhatsMarketing Software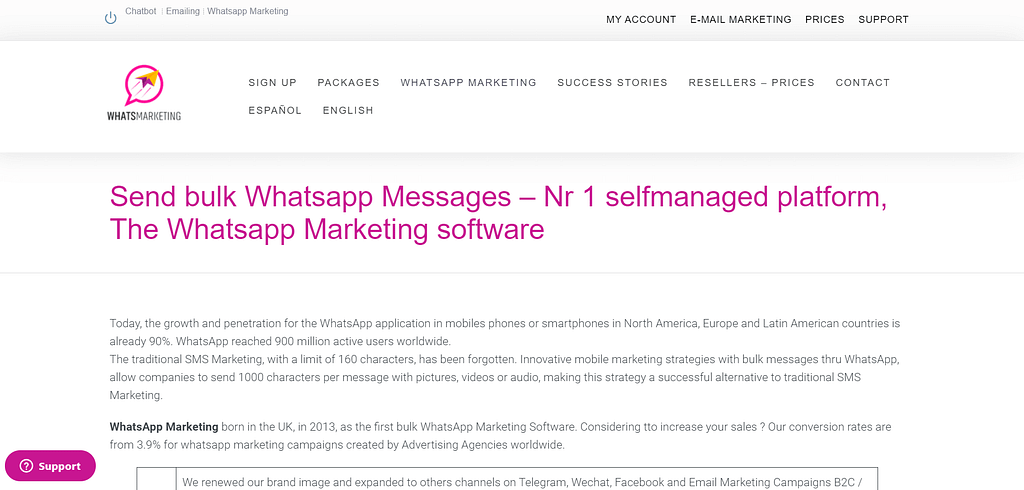 Today, the growth and penetration for the WhatsApp application in mobile phones or smartphones in North America, Europe, and Latin American countries are already 90%. WhatsApp reached 900 million active users worldwide.
The traditional SMS Marketing, with a limit of 160 characters, has been forgotten. Innovative mobile marketing strategies with bulk messages thru WhatsApp, allow companies to send 1000 characters per message with pictures, videos or audio, making this strategy a successful alternative to traditional SMS Marketing
I do not recommend this software to you. So, you think that why I am adding this WhatsApp bulk message sender to the list.
Because this product is rank on the first page of Google using SEO so that's why I am suggesting you do not buy this product.
Still, I am giving you some features of this tool.
Features of WhatsMarketing Software–
Using this software you can send bulk SMS to many users.
You can send photos, videos, and much more.
Pricing-
The pricing of WhatsMarketing Software is based on credits. I know you don't understand let me clear you. Credit means you have to buy credits for sending messages.
4. WebXion Bulk SMS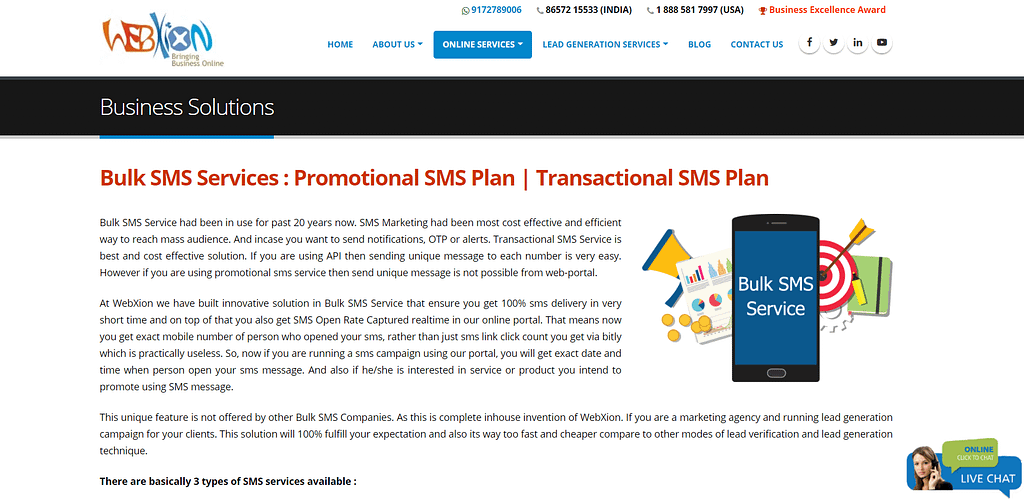 Bulk SMS Service had been in use for the past 20 years now. SMS Marketing had been the most cost-effective and efficient way to reach a mass audience. And in case you want to send notifications, OTP, or alerts. Transactional SMS Service is the best and cost-effective solution. If you are using API then sending a unique message to each number is very easy. However, if you are using a promotional SMS service then send a unique message is not possible from web-portal.
When I am visiting this software I feel that this is the best software for your business.
Let us discuss some features of WebXion Bulk SMS. So you will get a better idea about this software.
Features of WebXion Bulk SMS–
In this software, you can create your subscriber to send bulk SMS to everyone.
The best feature of this software is you will able to contact many companies, agencies, organizations, and businesses. And send bulk messages to them.
Also, you can track your sending URLs to generate more leads.
Pricing-
The WebXion Bulk SMS company is not giving pricing on their website. If you want to buy their bulk messages sending service just call them or email them.
5. WhatSender Bulk WhatsApp Sender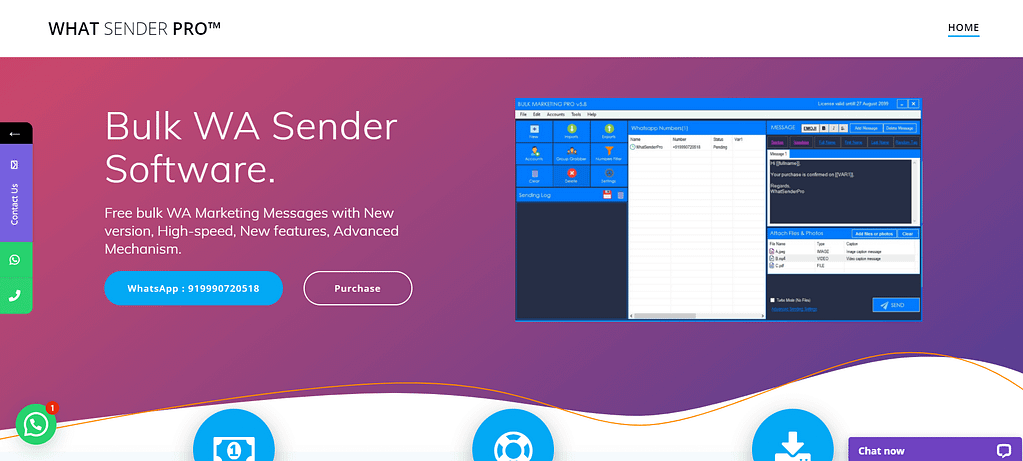 What is WhatSenderPro?
WhatSenderPro is a state-of-the-art bulk marketing software using which you can send unlimited bulk WA notification to unlimited contacts like your customers or subscribers instantly and automatically.
This is also the most recommended tool for sending bulk messages. The interface of this tool is very nice.
According to me, this is the best software if you want to buy then you can buy it blindly.
Let us see some features of WhatSenderPro so you have a brief idea about this software.
Features of WhatSenderPro-
If you want to send bulk messages you do not need to buy any credits or you do not need to spend money according to this tool.
This software gives you free support. You can email them or call them 24/7.
They also update their software from time to time and fix some bugs in software.
Also, you will able to export data in your Microsoft word and excel.
You can also control the speed of sending messages.
When you run a campaign you will get a detailed report regarding your campaign.
Pricing-
The price of this software is just 999RS. You can buy this software by clicking the button which is given below.