Vodafone Idea Launches Virtual Assistance For their Customers –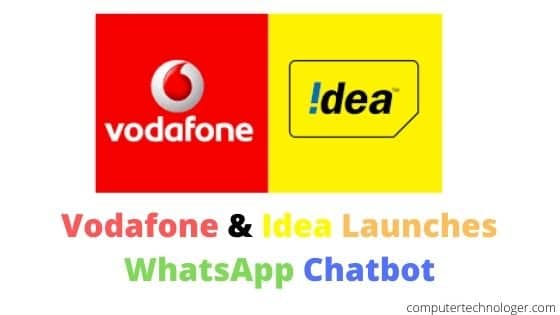 In this article, we will discuss the latest technology news. Vodafone and Idea Launch the AI-based WhatsApp chatbot for their user.
Vodafone and Idea have released the WhatsApp number for their users for customer care services. This is the greatest gift for the users. Because the Vodafone and Idea customers easily access the customer care services.
WhatsApp Chatbot AI-based technology is also included in the official website of Vodafone & Idea. You can see this feature of Vodafone and Idea on your My Vodafone and Idea application.
Why Vodafone & Idea Launch WhatsApp ChatBot?
Everytime we have a question regarding anything which is Why ?
You all know that it is the time of lockdown due to Coronavirus. That's why many of the employees of Vodafone & Idea is not able to do work. So, they think about chatbot and build WhatsApp chatbot using AI technology.
This virtual assistance is known as VIC.
What are the features In this Whatsapp ChatBot?
Why you will use this AI-based Whatsapp Chatbot? This is the biggest question which is in your mind. So, here is the answer to this question.
The list of features are given below-
Bill Payment
Fee added services (VAS)
plan activation
New connection
Information about your balance
Invoice request
Recharge
According to Vora: "In line with our digital first approach, we are constantly innovating and deploying technology based solutions which are cost effective, convenient and offer instant resolution for our customers. VIC, an AI powered intelligent customer service platform, developed by our technology partner, ORISERVE, is an industry first initiative and has huge relevance especially at a time when customers are house-bound".
How can you Access this feature?
The VIC WhatsApp chatbot of the Vodafone and the Idea is accessible for 24x7. So, You can access this feature from your my Vodafone Application and Idea application using Smartphone.
For Vodafone users – If you want to access this AI based WhatsApp Chatbot. Just you have to Whatsapp on the number 9654297000.
For Idea users – If you want to access this AI based WhatsApp Chatbot. Just you have to Whatsapp on the number 7065297000.
Conclusion –
In this article, there is nothing to tell in the conclusion section. But I will tell you one thing. Technology is going to the next level in day to day life.
Due to this feature, many of the call center employees may be fired from the company.
But this AI-based WhatsApp chatbot is really awesome you have to definitely check this feature.
I hope you all loved this article. If you loved it share it with your friends and family.
Read more –
10 Best Gmail Alternative for Email in 2020
How to get WhatsApp notification alert when specific contact is online
How to create a Calculator using Java
Best Top 10 Tech Gift's For Valentine's Day in 2020
Resources –
https://timesofindia.indiatimes.com/gadgets-news/vodafone-launches-virtual-assistant-for-customer-support-on-whatsapp/articleshow/75502729.cms